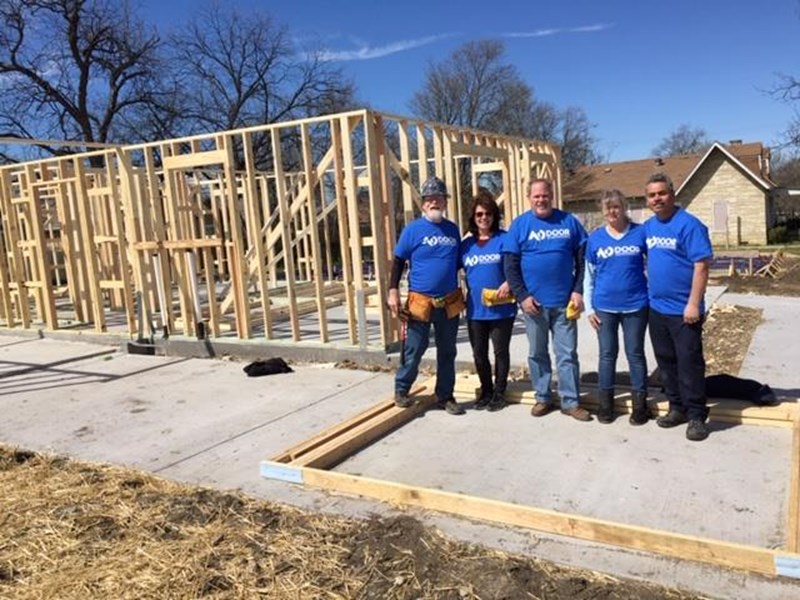 COMMUNITY INVOLVEMENT
At AO Door, we believe in assisting our communities by giving back to local charitable organizations in the Dallas-Fort Worth area. We regularly commit time to positively impact our community by raising funds, donating to those in need, or participating in community service events. Our goal is to be a reliable ally for our community by empowering our employees to give back to the less fortunate and make the world a better place—at AO, we care.
Giving back is a long-honored tradition at AO Door that has been built into our company culture since the beginning. We have honored the cornerstone of giving over the years in many different ways:
In November 2019, AO employees participated in a 5K run to support Ally's Wish, a non-profit that helps terminally ill parents enjoy one last vacation with their children and other family members.
Since 2019, AO has participated in Habitat for Humanity—groups of employees volunteer for separate days to help build a house for a family in need.
In 2020, AO supported the Foster Kids Charity in Dallas by raising money and donating activities and supplies to foster children and parents in need during the COVID-19 pandemic.
Our employees at AO are very generous with their time— that's just one of the many things that sets our team apart. We look forward to continuing to advocate for those who cannot advocate for themselves by supporting those in need and providing for the less fortunate. If you would like to get in touch with us about a potential partnership or community project, please contact us today.