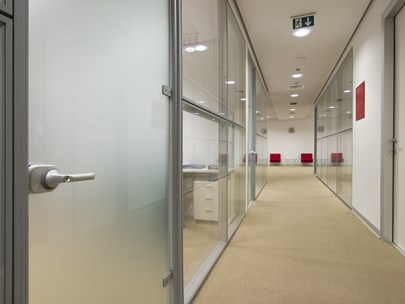 Shopping for commercial doors for an office setting is unique compared to shopping for residential doors. Commercial doors must meet commercial property standards in accordance with size and security, but they also must meet the ever-changing cycle of design and aesthetic trends. If you are looking to renovate your office space for a fresh look, you should always keep style and standards in mind.
Types of Commercial Doors
Whether you need interior or exterior doors, office door designs are available in different styles, finishes, and materials. The following types of doors or used for various purposes in an office space:
Metal Doors. Metal doors are suitable for exterior entrances since they are more durable than other types of doors. They typically seen in schools, hospitals, and office buildings.
Wood Doors. Wood doors are used only for interiors since they require high maintenance and upkeep. These office doors are often used for main admins rooms for their luxury look.
Aluminum Doors: Aluminum doors are known for their lightweight and stylish looks. They are suitable for both interiors and exteriors and are usually combined with glass panes for ventilation and view.
Ensuring that you choose the right type of door for your office space is essential—not only do they set the tone and environment for your employees, but they also must meet safety and size standards.
What to Consider When Buying Doors: 5 Tips
Whether you are designing an office space for a high-end firm in the city, a hospital, or a local office building, you must always consider the following aspects for your space:
Security. Always ensure that the doors you choose for any space offer protection from any unwanted intrusions or potential threats. This is where a high-quality lock comes into the door-buying process.
Safety. Every commercial building has safety standards that apply to every part of the space, including doors. Make sure your doors meet every safety standard for your building—some requirements include fireproofing, temperature-controlling, and durability.
Accessibility. Commercial doors are all subject to ADA Compliance regulations to ensure accessibility for those with disabilities. Some requirements include door width and depth, thresholds, and maneuvering clearance.
Privacy. All doors for any work environment should be soundproof with a quiet open and close. Any employee needs privacy and quiet, no matter type of work they do.
Visuals. An important aspect that contractors often overlook is aesthetics. The doors you choose must match the interior design of the rest of the office space and provide a welcoming atmosphere for both customers and employees.
Meeting safety standards, privacy expectations, and visual appeal in any office is a vital part of the process when deciding what commercial doors to use—always keep employees, customers, and building owners in mind.
Contact a Dallas Commercial Door Expert Today
Now that you know your options and expectations for choosing commercial doors for your office space, it's time to start looking. At AO Door, we carry a variety of commercial doors, frames, and hardware that meet the aesthetics and safety standards for any office space.
For more information about the products we carry and how we can help you with your commercial door project, contact AO Door today to speak with a Dallas commercial door expert. Happy door hunting!